Corporate Artificial Intelligence Adoption Strategies and Implementation 2018
Back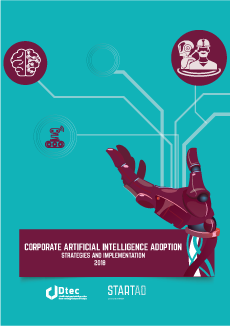 Dtec and startAD are pleased to reveal their collaborative project "Corporate Artificial Intelligence Adoption." This report focuses on assessing and detailing the journey of MENA corporates' during the implementation of their Artificial Intelligence (AI) solutions. The study will look into challenges faced during implementation, while also examining the benefits reaped.
Customer retention & business operations

are the key factors for implementing AI strategies.

AI improves business operations

by increasing efficiencies and optimizing operations.

AI solutions improve

1-customer centricity 2-targeted marketing 3-customer analytics.

Corporate AI solutions

1-boost operations 2-augment customer solutions 3-strengthen growth strategies.