Meet the Startups and Winner of Seedstars Beirut
Back
Seedstars Beirut, in partnership with Touch, welcomed 8 Lebanese startups at Antwork on November 15 in order to pitch their businesses in front of a renowned panel of jury including: Sami Abou Saab, CEO of Speed@BDD; Amira Mourad, Head of Business Support Unit for Startup at IDAL; Bijan Azad, Associate Professor at AUB; Lara Ammar, Digital & Innovation Specialist at Touch; and Corine Kiame, Investment Manager at IM Capital.
8 startups took the stage for a chance to pitch on a global stage in the Seedstars Summit taking place in Switzerland and compete for up to $1M in investment; after the jury's careful deliberation, Spike was selected to represent Beirut in the Summit. Additionally, 3 runner-ups (Generics, YallaBus, and Mint Basil Market) received the opportunity to participate in the Touch Bootcamp alongside TIP's startups for a 1-day private bootcamp.
The Seedstars finalists from the MENA region will receive a mix of theoretical and practical content, with input provided by the Seedstars investment team on growth models and acquisition channels during the Seedstars MENA Summit, which is taking place in Beirut on November 27 to 29.
Meet all the startups who pitched during the event:
MAJ Solution
MAJ Solution, a Smart ESA graduate, provides construction and development companies with tools to predict potential early enough. Considering that the process of data collection is currently done manually, the time and probability of mishaps are high. With MAJ's services, mistakes can be prevented and the time to collect data is majorly reduced from an average of 2 weeks to seconds.
SideLick
SideLick is an online platform that provides pet-care services such as pet boarding, pet sitting, or dog walking. The platform allows the pet parent to connect with certified pet sitters around them.
Generics
Generics App makes customized biocompatible ear-tips to solve for poor fitting, uncomfortable earphones through photogrammetry and 3D printing. The process is simple, interactive and allows you to choose the aesthetics of your earphones. The user only has to capture a video showing his/her ear in different angles and then decide on its color.
YallaBus
YallaBus is a mobile application that aims to improve the bus experience in Lebanon. By installing GPS trackers in buses and through machine learning, the user will be able to know the destination of the buses and where to wait for them.
Spike
Spike is a mobile assistant that helps diabetics better manage their diabetes. It monitors the patient's daily behavior and jumps in with reminders and tips when needed about insulin, food, activity, etc. Additionally, Spike stores the patient's data for further analysis and/or sharing with doctors and caregivers.
CraveHome
CraveHome is an online platform allowing users to buy fresh, delicious, and safe homemade meals. Through this platform, people who lead a busy life are able to experience and enjoy home cooked meals without going through the trouble of preparing them.
Mint Basil Market
Mint Basil Market, a Falt6Labs Beirut graduate, is an ecommerce platform where clients can easily shop for healthy, natural products ranging from food to cosmetics to household cleaning products. They provide an easy search bar where users can filter their products by category and diet. Once the order is made, MBM delivers to any region in Lebanon free of charge.
Augmental
Augmental is an EdTech application where course materials are adapted to each student's learning abilities. The latter is possible through the implementation of Artificial Intelligence and Augmented Reality of the Lebanese Curriculum.
Latest Business
Intelligence Report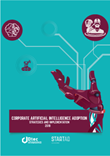 Latest Report
Corporate Artificial Intelligence Adoption Strategies and Implementation 2018
View Report
;