Introducing DIA-style: Luxury Fashion Shopping Portal & Community + Exclusive Interview With CEO Rasha Khouri
Back
"DIA-style.com is for the busy fashion forward modern woman who wants to shop online for hottest products from around the world within a single accessible digital format," explains CEO Rasha Khouri "The site will offer far more than just online purchasing, encouraging style experimentation and the development of a dynamic online fashion community in the Middle East."
DIA-style.com is a portal that enables users to shop effortlessly online for women's ready-to-wear and accessories from a huge range of global luxury brands within a single site, as well as offering creative play and talk functions in its community pages.
SHOP
The site will feature over 40,000 products, offering a uniquely comprehensive shopping experience for the online luxury consumer. Users will be able to search between brands, refine by price ranges, color and sizes. DIA-style.com has online and tele-style advisers to help clients with style, sizing, and shipping queries. Purchases are made seamlessly via a single click through to the e-tailer.
PLAY
Through its virtual styling tool DIA-style.com Collections, users can become fashion editors using a tool to create outfits and editorials that can be shared on social network forums like Facebook and Twitter.
TALK
DIA-style.com will also host forums for fashion enthusiasts to discuss the latest trends and enjoy swapping style tips in Arabic and English, allowing fashion enthusiasts in the Arab world to communicate their ideas, passions and opinions on fashion.
The site is available in both English and Arabic. It is the first time Arabic speaking consumers will be able to view and shop international luxury products in their own language. The site is also optimized for all digital devices to enable users to shop, play and talk at home or on the go.
Rasha graced us with an interview in which she shared the story behind DIA-style, as well as her thoughts on the competitive landscape and e-commerce in the region.
Tell us a bit about yourself and the DIA-Style team
I am currently based in London but have previously been a bit of a nomad, having lived in The Middle East, London and New York. After graduating from college in the US I joined JP Morgan in New York and then came to London where I was able to fuse my interest in fashion and finance as a luxury goods analyst with Merrill Lynch and UBS. Our team based in London is young and cosmopolitan, made up of seven different nationalities from four continents, which a real asset in the global marketplace.
Tell us the story behind the DIA Group
Our first digital venture was DIA-BOUTIQUE.com which launched in 2010. It is an e-commerce site showcasing fashion pieces from independent labels in English and Arabic. Within it we foster niche designers whose borderless mindsets and use of artisanal design techniques offer a fresh perspective on fashion. The word 'dia' comes from the Greek root of the word for wholeness, in Arabic DIA describes a shimmer; in Hindi, a dazzling personality; in Spanish it means the day. I chose this name because its various meanings encapsulate aspects of what our sites can provide. The plan has always been to grow the DIA portfolio, and our second venture, DIA-style.com, which launches this week in Arabic and English, is a natural development that takes us further into the digital luxury fashion arena.
How long have been working on the project?
Since launching our first site in 2010 we've seen the Middle Eastern customer becoming more comfortable online and with e-commerce. We've seen a rise in repeat customers from the region which validated our next project DIA-style.com. In 2011 we started creating the aggregator platform and translation application, getting onboard key directional e-tailers including NET-A-PORTER.COM and Selfridges.com. Working with the right e-tailers has been crucial in terms of the quality and quantity of our product offering.
Walk us through Dia-style.com
The site has been created for the busy, fashion forward modern woman who wants to search and shop securely online for the hottest luxury products from around the world and have them delivered to her door. The site, available has over 40,000 ready-to-wear and accessory pieces from 1,000 global luxury brands including Burberry, Balenciaga, Christian Louboutin, Diane Von Furstenburg, Gucci, Jimmy Choo, Lanvin and Versace. Visitors to the site will be able to shop, play and talk. The 'play' section encourages creativity with fashion and our forums section called 'talk' nurture a dynamic online fashion community in the Middle East.
What sets you apart from the competition?
We focus our product offering to luxury goods giving users an environment to browse, search and shop their favorite brands and items. In the Middle East the luxury online offering in Arabic is currently limited to off-season and on-sale luxury goods which originate predominantly from the stores in the region. Our site in Arabic and English showcases international on-season product. Being based in London is an advantage as this means we have a great talent pool from which to draw - the city has a wealth of expertise in the digital and fashion areas as well as having a vibrant Arabic speaking community. We have been active in social media and have over 20,000 followers on our Facebook pages.
What would you say are the biggest obstacles for e-retail in the region?
For sure it is consumer confidence in making credit card transactions over the internet. However thinking back to when e-commerce started up in the US and Europe we also saw this mindset, therefore I think it is only a matter of time before e-commerce reaches the same levels. Recently Euromonitor International published research noting customers in the Middle East region currently spend around $1.1 billion on physical product online and that by 2016, it will double to $2.2 billion.
Any plans for the future?
We're going to work with more global trend driven e-tailers and introduce new languages. We'll also be continually updating our sites with new features and tools.
Latest Business
Intelligence Report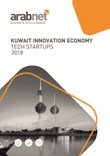 Latest Report
Kuwait Innovation Economy Tech Startups 2018 Report
View Report
;