Seedstars Is Coming to Kuwait to Find the Best Startup
Back
Seedstars World is coming to Kuwait for the 2nd time. With the support of the local host KFAS, Seedstars will be holding a dynamic pitch event on the 11th of November.
The companies selected to pitch at the Seedstars Kuwait City event need to be less than two years old, have raised less than $500K in funding, and built a minimum viable product, ideally with existing traction. The Seedstars team is searching for one additional criterion: the startup's regional and global scalability.
The applications are open until November 4th and startups are invited to apply at Seedstars Kuwait. After a careful screening, the Seedstars team will shortlist around 10 of the best seed-stage startups in Kuwait to pitch for the opportunity to compete at the Seedstars Summit, which annually takes place in Switzerland.
Seedstars World's previous participants have raised over $120M collectively, providing employment to more than 2100 employees worldwide.
Selected startups will give a 5-minute pitch in English, in front of a jury made up of local startup heavyweights, followed by another fine minute Q&A session.
"Since this will be our second time organizing the event at Kuwait City, the stakes are high and we are very excited. We've been in this ecosystem for more than 2 years now and know there are companies in Kuwait developing high-quality products. We are looking for the best and will take it with us to Switzerland in 2019!" says Meghan Warner, Regional Manager for MENA at Seedstars.
In order to provide local entrepreneurs with this opportunity and aiming to deliver the best possible event, Seedstars is closely working with AlGhanim Industries and Kuwait Foundation for the Advancement of Sciences (KFAS), and Sirdab Lab who are representing the initiative throughout the year.
Alghanim Industries, one of the main sponsors of Seedstars Kuwait, reiterated the company's commitment to supporting youth and empowering the entrepreneurs, "We firmly believe in the importance of investing in youth and empowering a new generation of Kuwaiti entrepreneurs. Seedstars is a great opportunity to give innovative ideas the support and opportunity they need to propel them towards the success they deserve."
KFAS is also one of the main sponsors of the event, "We are very keen to grow the size of the private sector in Kuwait and we strongly believe that building its scientific and technological capacities is the way to achieve this strategic goal. KFAS's support of Sirdab Lab to host Seedstars Kuwait City is a translation of our objective to assist in achieving the national goal of creating knowledge-based economy in Kuwait. We saw Seedstars Kuwait City initiative as a good platform for the local startup community since it has the potential to open new doors to them for international opportunities."
Latest Business
Intelligence Report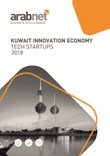 Latest Report
Kuwait Innovation Economy Tech Startups 2018 Report
View Report
;